Discussion Starter
·
#1
·
Due to our family increasing rapidly and the purchase of a more family friendly project I am forced to sell my A pick-up.
I built this car from scratch and although it uses an aweful lot of original model A panels I decided to register it with the DVLA as a my own make. It has seen a full SVA test and is registered as a 2012 vehicle. This means no one can touch the V5 it is all totally legal and above board. I have let the MOT lapse as I simply am not using it due to family comitments however the MOT comes up as a pre '73 vehicle due to the 1938 engine. The details are as follows.
All steel model A ford body some panels are handmade by me but the important bits are original. All steel bed with '37 (I think) ford tailgate. Morris 10 bonnet grill shell and dash.
Engine is a 1938 Ford 81A flat-head V8 rebuilt and over bored by Nervous Bob Froch.
Brand new fefurbed Pilot Rad.
Transit 4speed gearbox
Sherpa rear axle.
Morris 10 front axle with vauxhall senator vented discs and calipers.
16" Taxi rims and cross ply tyres.
Basic and functional interior with metal flake vinyl and rubber flooring.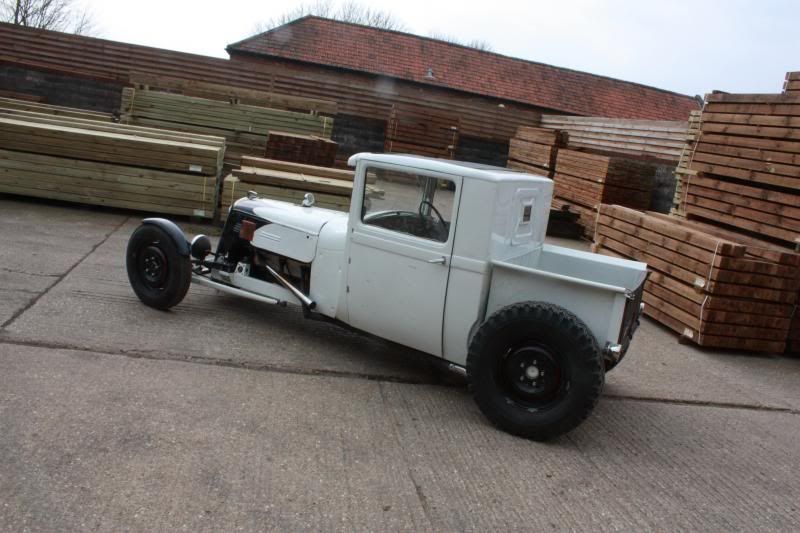 I'm looking for £9000 for an all steel flathead powered model A
Call me on 07890560047 or PM