So not a rod and I have already received some mild abuse on a bobber ? ? ? ? ? and another modified bike forum, go figure that one out? So some folk may not like this but what the hell, I'm posting for a friends benefit kinda by request so here goes.
Forgive the pics. there all taken in very limited space. but my progress to date for anyone interested.
I decided I wanted a bike maybe 10 years ago but only really started looking for one 5 years ago. There is a tale behind why it took so long but I'll not go into that. Suffice to say I still don't have a license but i have finally found my perfect donor. This is my first bike and my first learning experience working on a bike.
I'm glad it took so long to find my donor as my direction has changed a little. The base bike was always gonna be girder folks and hard tail pref vellocette, triumph or b.s.a. Direction was always gonna be bobber and i always fancied something nice and shiny but the direction that changed was period and patina influenced by many of the bikes at hayride over the last couple of years. I always wanted to keep it simple but now I want to keep it simple and as period correct as possible tho I may have ballsed up a little on the rear tyre and battery. :incheek: Big thanks to Ian and Dan for support and encouragement.
The bike choice happened by mistake I read the word Triumph saw it already had hard tail and girder front and got a little excited making a couple of offers through ebay. The bike was in Germany but even that didn't set off any alarm bells ringing.
So i turned up 2 days after boxing day 2012. Looking like this with a seized engine and 2 flat tyres and a bucket full of patina, wish me luck.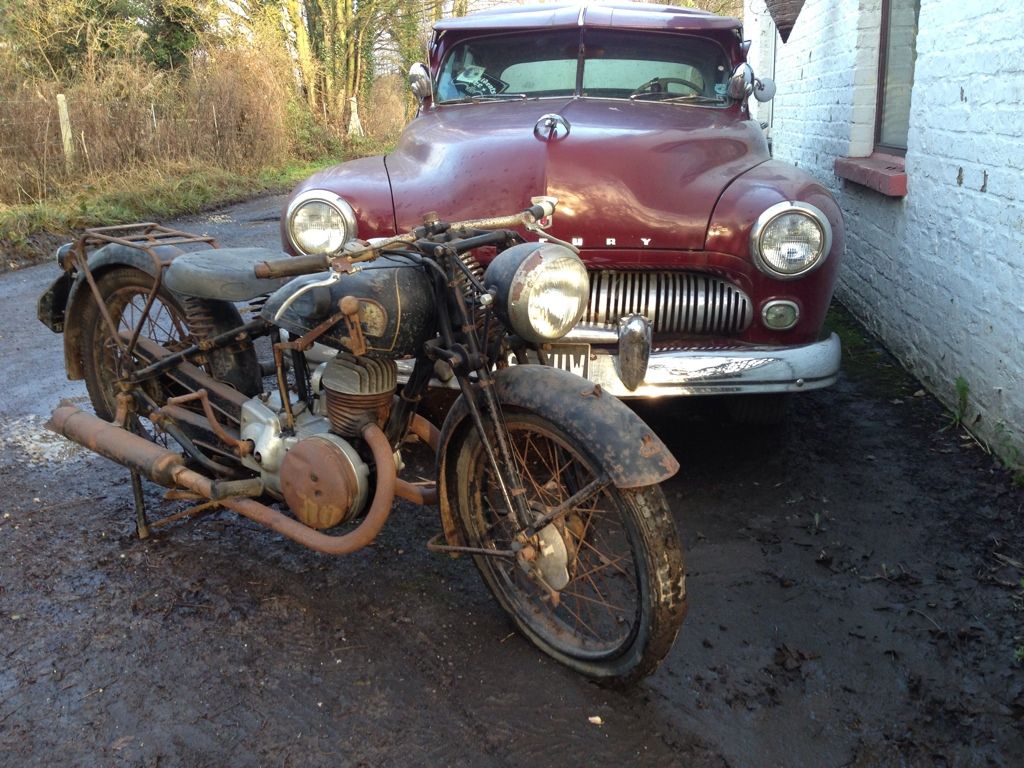 Choice of rear fenders changed several times from a triumph cub item, too modern. . . . . .
To a ribbed ariel item that i decided was the one.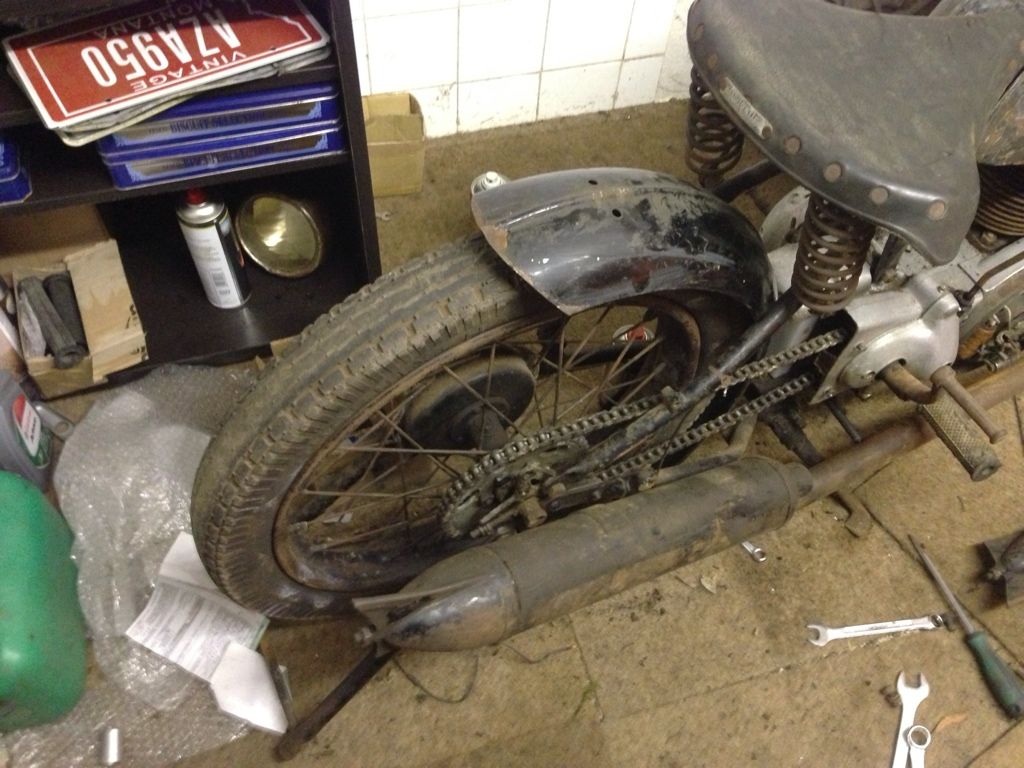 Until I accidently placed the o.e. fender removable back piece on top of the new tyre while cleaning up and it looked just right. This made me happy as it means the only Items I have added to the bike are the headlight and glass knob on the jockey shift.
Everything else has been achieved purely by stripping and modding.
I've kept the original exhaust but raked the back pipes upwards at the rear.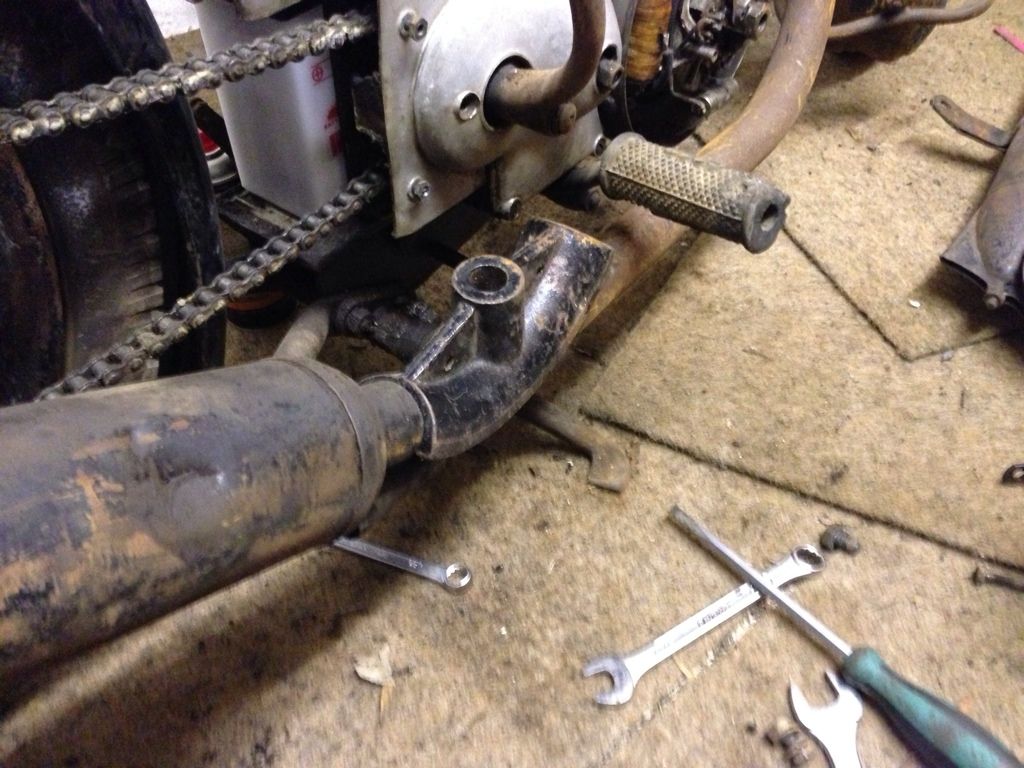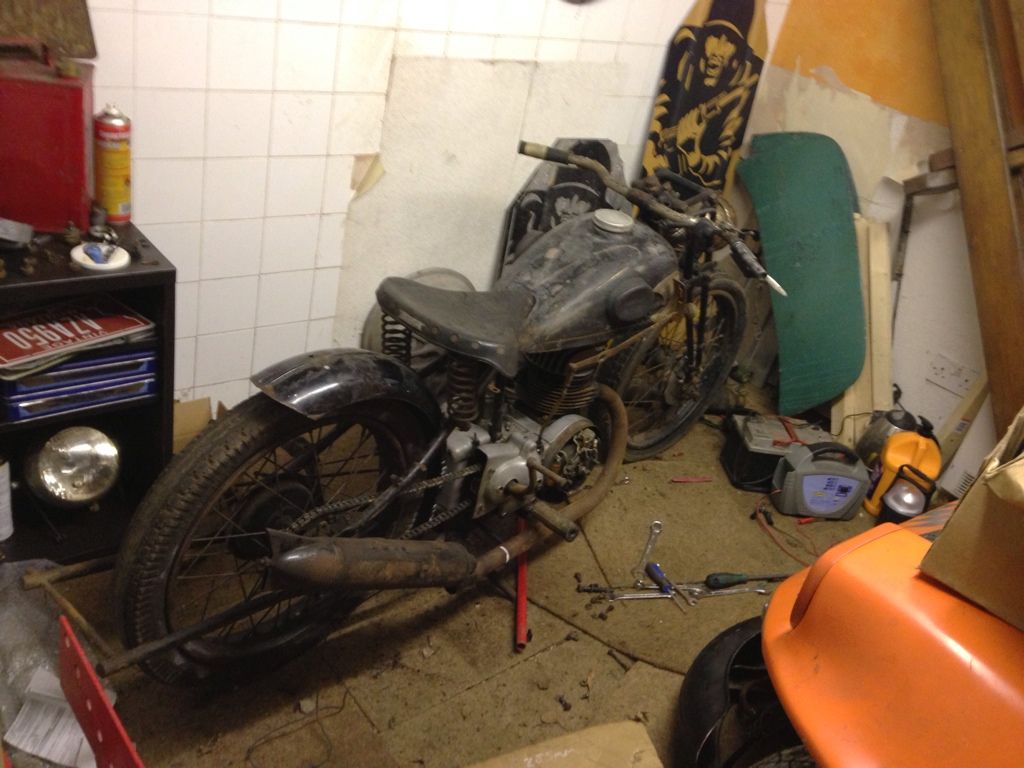 Changed the headlight to a ratty brass lucas item which is much smaller and imo suits the stripped back appearance of the bike.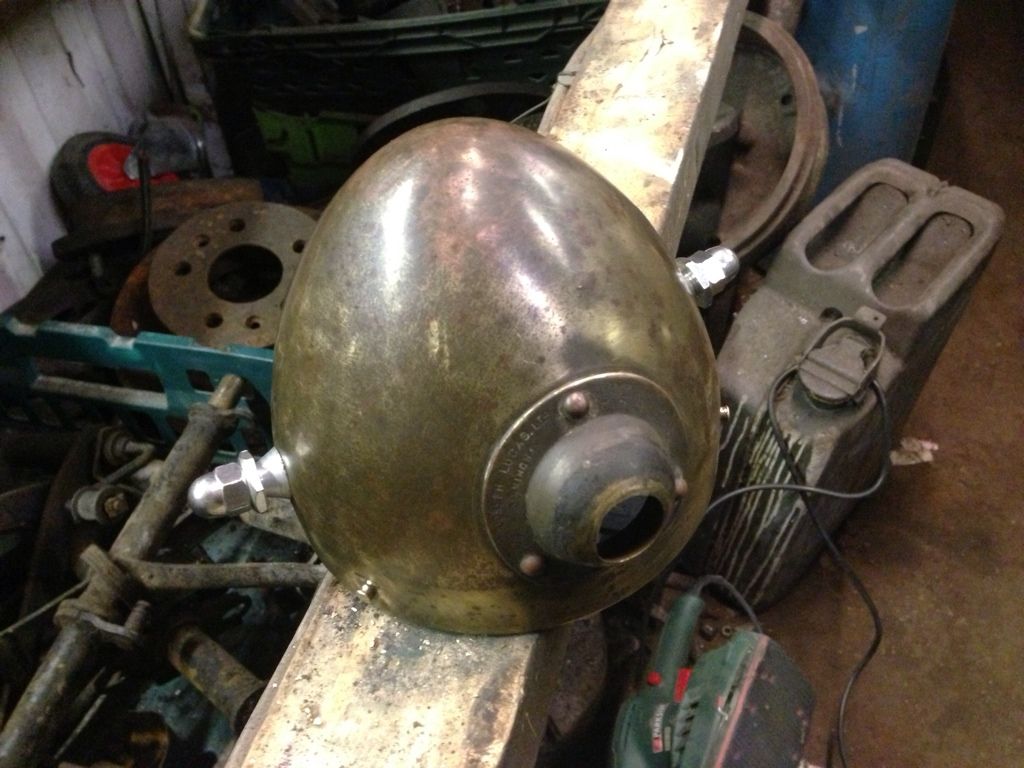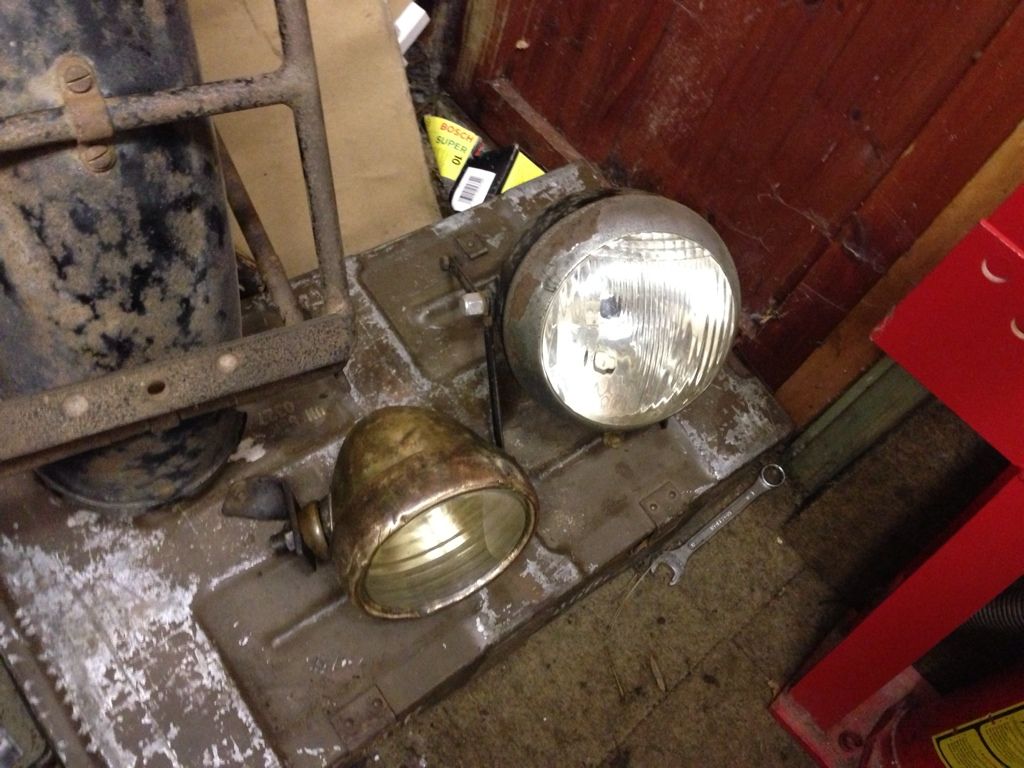 Even had to modify the glass lenses as they were too big for the unit so i carefully ground them down.
Yellow?
Or clear?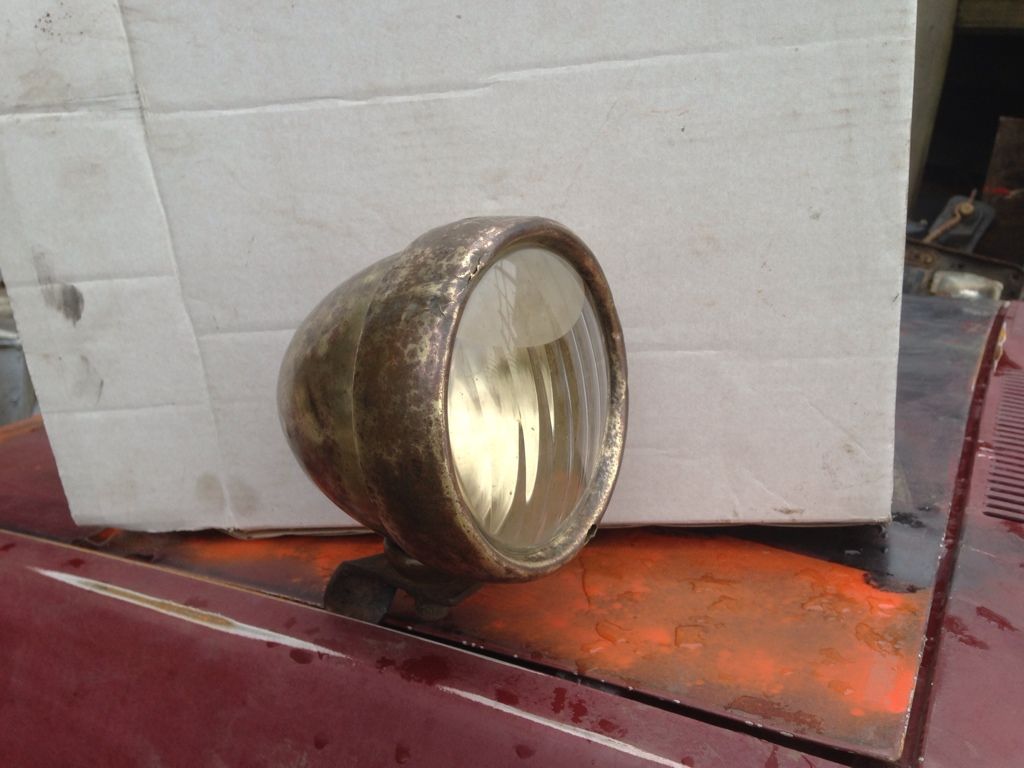 I'm leaning towards the yellow myself.
Mocked up but far from finished.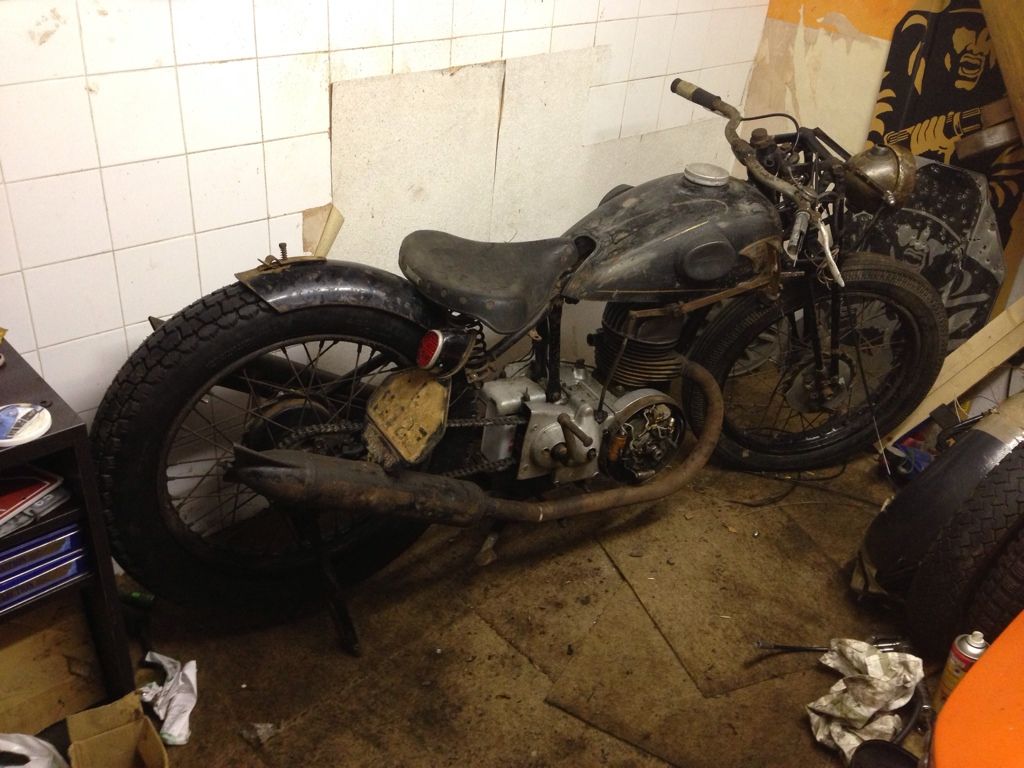 I'm trying to keep the original number plate and rear light but not sure it will work yet.