Discussion Starter
·
#1
·
The Hot Rod Hayride 2009 had a Model Shop Display in the Art Show part of the event.
Heres how it came together.
The organizer of the Art Show is in charge of the workshops of the Royal College of Art in London. He and I discussed possibility's and decided that a Model Shop frontage was do-able. A recent student exhibition left him with a pile of display boards and assorted stands to get rid of. We re-cycled all sorts of stuff into an Art Display.
He sorted a flat packed shop out leaving me to build, paint and fill with appropriate material.
Being a Hot Rod event, American car kits dominated the display, although I did sneak in a few planes including a Frog Airliner display. Airfix made an appearance as a couple of shop posters on the door and again, inside the display. The bulk of the display was made up of vintage Monogram and Revell kits, some built and some boxed.
We had to clear and construct a display in a huge old wooden hut. Here's how it looked as we started.
The space under the indoor barbeque(!) was the area allocated for my display. The flat pack panels of the shop were delivered on Tuesday and assembled on site.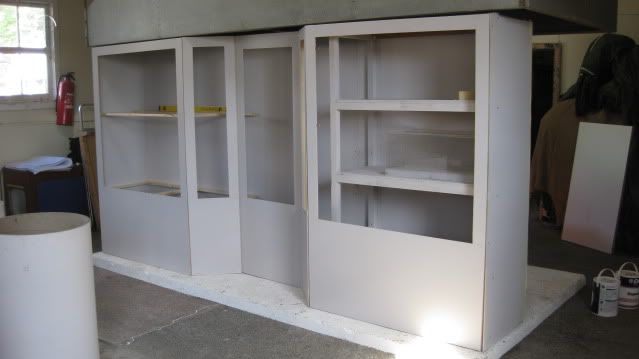 On Wednesday, the stand got its first coat of paint. Yellow for the outside and flat black for the display areas. The frames had a clear plastic 'glass' area fitted to them.
After each days work, I spent the evenings rebuilding old kits and working on new display material. Hours disappeared very quickly indeed. I thought I had plenty of time to do everything I wanted. Wrong again. Compromises were made.
The fitting out proceeded on Thursday night and took far longer than I first thought. The Show opened on Friday, so the whole thing was very tight.
Here's how it looked on the day.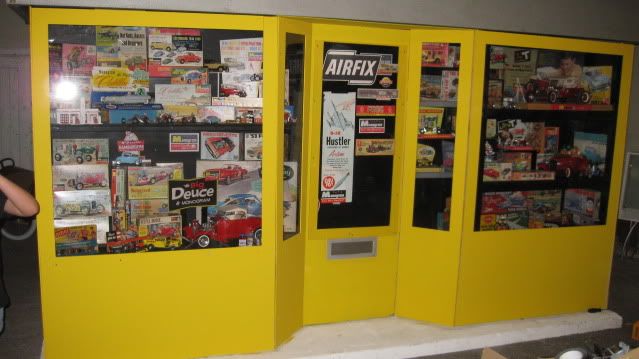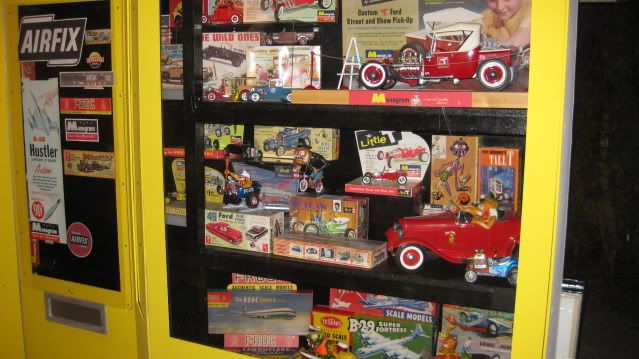 The Shop was a great success, I did not spend the whole weekend with it, but every time I checked in, there were very positive comments made.
There were some things that I would do differently next time. The shelf layout was not ideal. there was a fair bit of emergency rebuilding to be done there.
The Shop front could have done with a bit more detail, a name board for instance plus a bit more detailing around the window openings.
The display was taken apart on Sunday afternoon. I debated keeping the display, but in the end donated the thing to the on site Museum. I would have had to store the thing somewhere, and space soon runs out around here. The contents came home with me though.
If I did it again, I would have quite a few alterations I would make, so a fresh start would probably be a better idea.
All in all though, it was a hugely satisfying thing to have pulled off.