Hi guys,
The blue Stude currently has a small block Chevy, TH700 and an open ford 8".
Since the engine has been rebuilt with ali heads the car is gagging for an LSD, while we're at it rear discs would be nice.
I started looking around at options and to rebuild the 8" to what we want is going to cost a fair bit. So I started looking into the Ford 8.8 live axle, 24 different Fords came with this axle apparently, in open or LSD form, in varying widths and ratios, with different offset diffs and 28 or 31 spline.
After some research I settled on the Ford Explorer rear end, 31 spline, 3.73 locker with discs, the quirk of it is it's too wide for the Stude (59 1/2"), but it has an offset diff due to it being from a 4WD vehicle, which means it has a long and short axle, the longer axle being approx 2 1/2" longer than the other. The trick is to narrow the axle casing on one side by the difference and locate another short axle, i'll then have a 31 spline, 3.73 LSD disc braked rear end for a lot less than a 9" or a 12 bolt, or my modded 8". The 8.8 is basically a 12 bolt clone. It'll end up around 57"- 57 1/2" which is perfect for most old cars.
But, to get another short axle you've basically got to buy another rear end as it's grief getting the axle out for what it's worth and I may need other parts of the rear end anyway due to damaged/unusable parts.
Anyhow I took a drive down to Maidstone on Saturday and molested the rear end of an R reg Explorer for £175.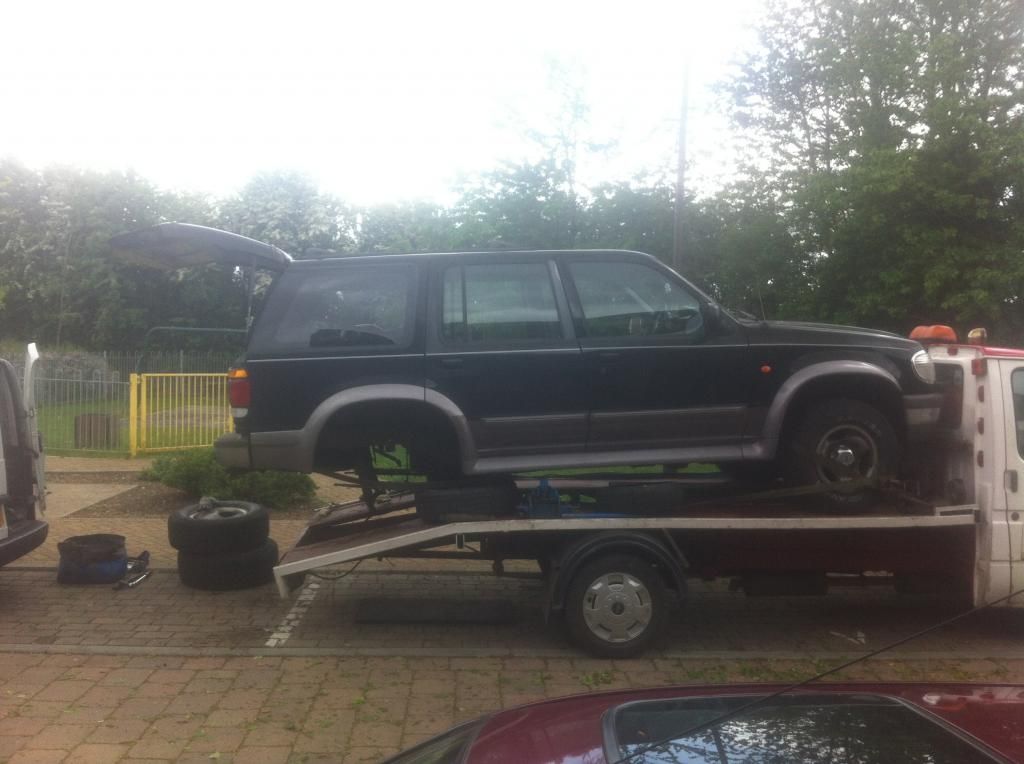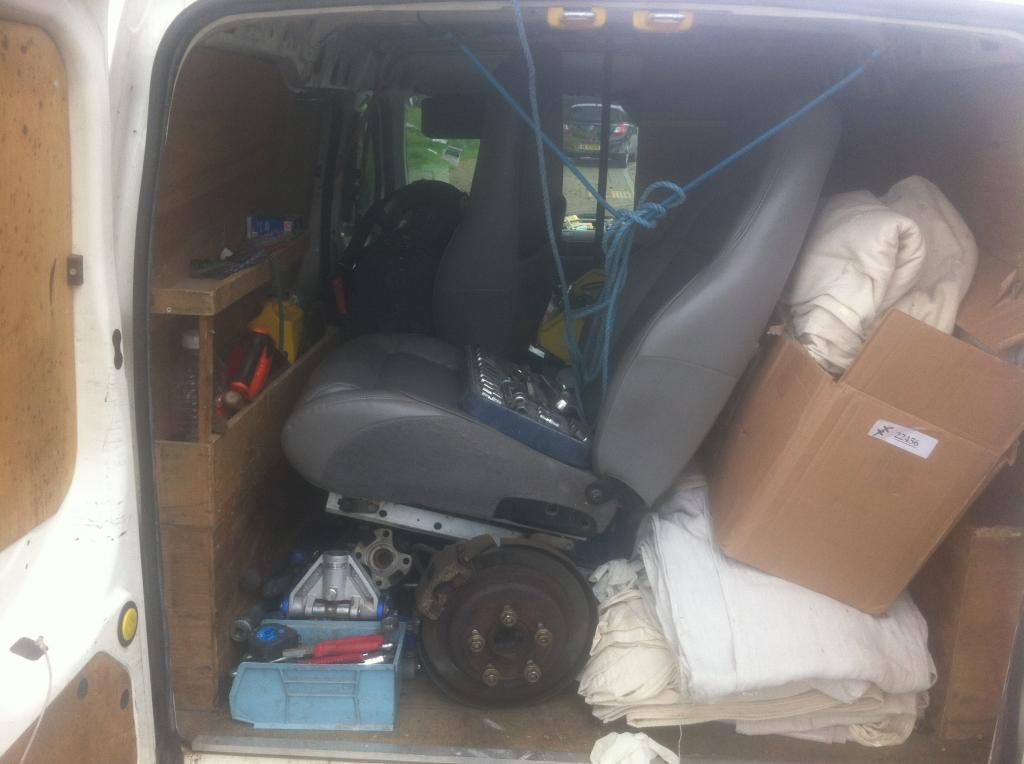 It wasn't too hard to get out but that mofo is heavy! Don't try this on your own, it was hard work with two of us. I got the prop, sway bar and mounts, handbrake cable, shock mounts etc and took lots of pics of the Explorer.
I then got the axle home and started to strip it down to assess the condition of the parts. The intention is to replace all consumables and rebuilt the rest.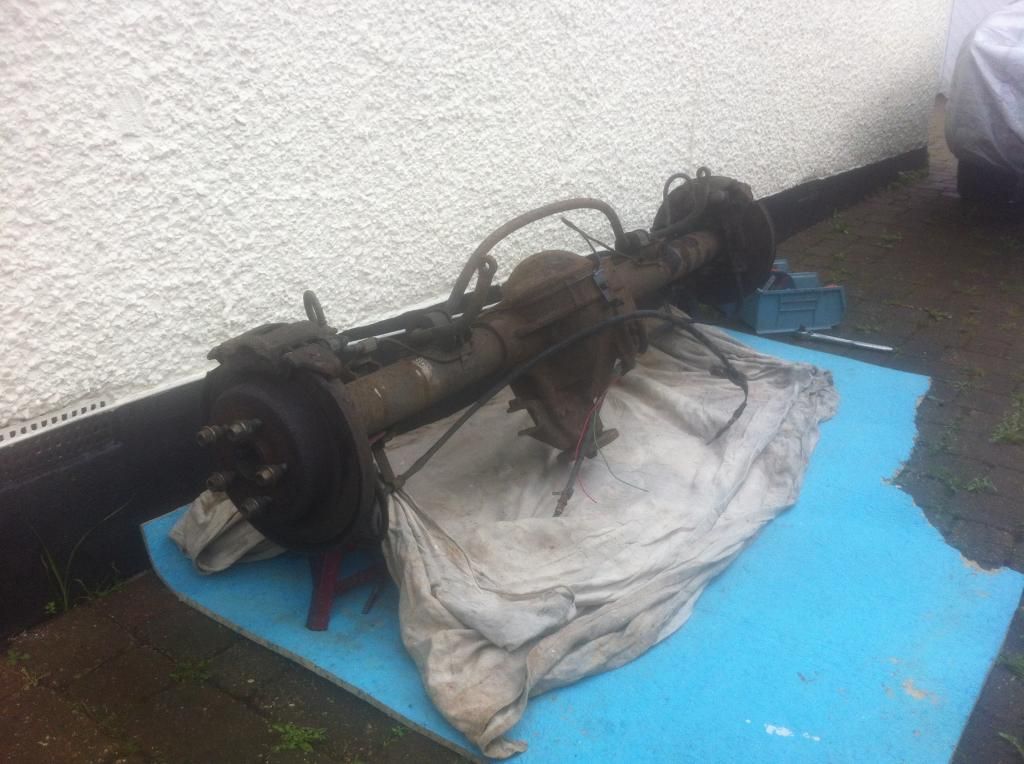 The pads are shot, one disc is shot, the hand bake shoes are cracked and there's too much end play in the axles, all will be renewed anyway.
The callipers seem fine but will be rebuilt too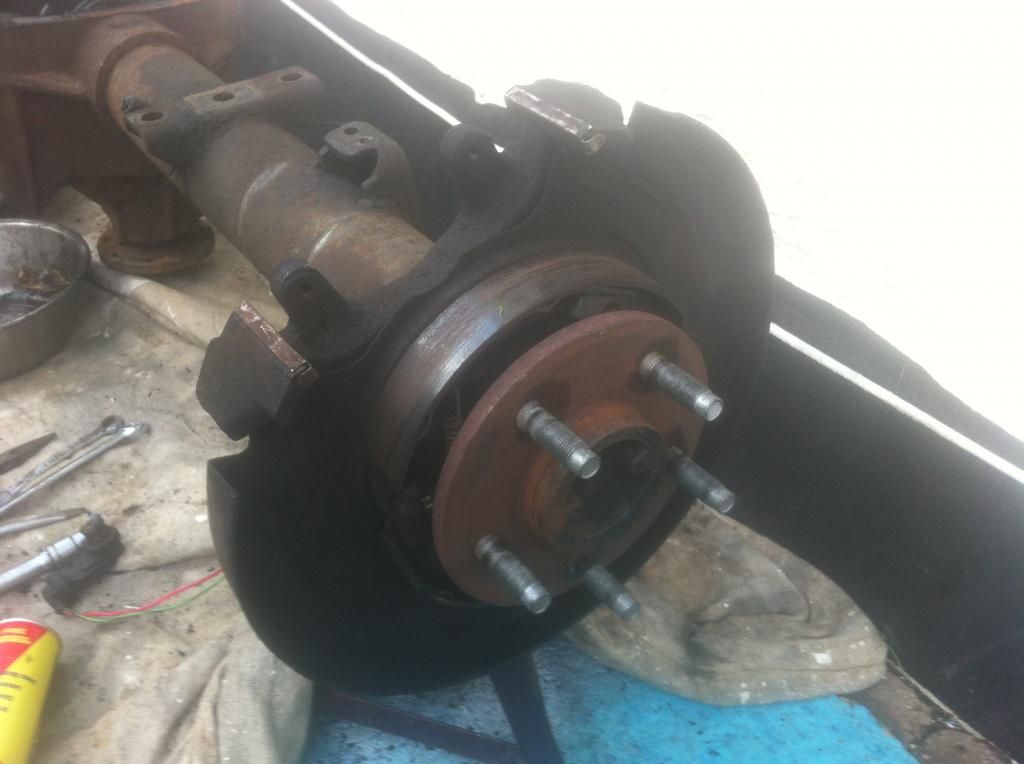 The gears are ok, not bad but not great, the ABS sensor is redundant and will be plugged, the sway bar will probably be left off as they're not much use on front engine/rear drive cars if your suspension is good. I'll decide later. A new brake line will be made and new rubber hoses.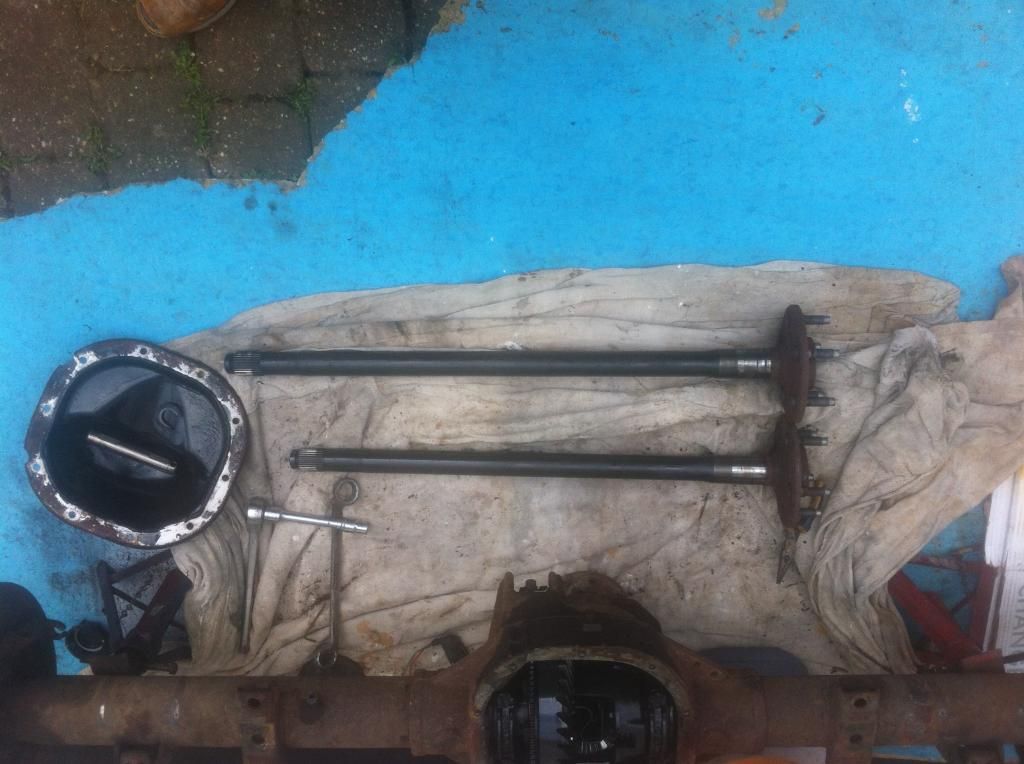 I've got two more axles lined up and another drum brake axle which could be used to get the shorter shaft.
If anyone's interested in this setup for themselves then give me a shout as i'm making a collection of these rear ends to get as many usable parts as possible. It would be handy if someone is after an axle shorter than 57" as this would free up another short axle. To go shorter than 57" it'll require aftermarket axles.
The plan is to get three or four rear ends, strip them, assess, get the difference cut out of the long tube, check the tubes for straightness, weld the tubes (interference fit from the factory) to the pumpkin, cut off the sway bar and leaf spring perches (if they're no use) and weld on new perches, fit new bearings and seals, new LSD plates, new pads, rotors and rebuilt callipers, new brake lines and proportioning valve, new handbrake cable and away.
Let me know if you have any short axles, or complete rear ends (drum or disc brake models), and get in touch if you want to go about this with me.
Cheers, Aaron.